Katina Ceremony 2014
Dear Devotees,
It is with great pleasure that Florida Buddhist Vihara announces the "Over night Pirith Chanting Ceremony along with the Katina Ceremony- 2014". This will be the fist time that an over night Pirith Chanting Ceremony with the participation of twelve Bhikkhu's is going to be held in Florida.
A Beautiful "Pirith Mandapa" will be installed for the Maha Sangha to chant Pirith. Pirith chanting will be done in accordance to Theravada tradition.
ATAWISI BUDDHA POOJA
There will be "ATAWISI BUDDHA POOJA", with the newly brought twenty-eight Buddha Statues from Sri Lanka. The Puja will ceremoniously start a Series of Punya Kamma. Pirith Chanting will commenc at 8.30 PM.
DAANA
Following day (November 2nd) morning, there will be a Buddha Puja (at 7.00 am) and Daana for the Maha Sangha (at 7.30 am) for the eighteen Bukkhu's. Breakfast for the devotees will also be arranged.
If you would like to offer a Dana item (Heel Dana) to the Monks on this day, please contact the temple for details.
OFFERING OF THE KATINA ROBE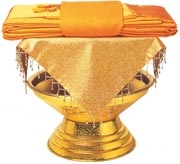 At 8.30 am (Nov 02) KATINA ROBE will be offered after following Vinaya Formulas.
Program
11-01-2014
07.00 – 08.00 pm "Atavisi Buddha Poojawa"
08.00 – 08.30 pm Offering of "Gilanpasa" for the monks/Tea & Coffee for lay people
08.30 pm      Commencement of overnight Pirith chanting
11-02-2014
05.30 – 06.30 am Ending of Pirith chanting & providing of the holy water & blessing threads
06.30 – 07.00 am Preparing " Dana"
07.00 – 07.30 am Offering of Buddha Pooja,
07.30 – 08.30 am "Heel Dana" for the monks & breakfast
08.30 – 09.30 am Offering of the "Katina Robe" & Punyanumodanawa
09.30 – 10.30 am Ending of robe ceremony & cleaning
Please note that "Sunday School Children's Salpila" & "Sri Lak Bojun" will be held from 5.00 pm to 6.30 pm. Salpila will be conducted by the children and parents of the Sunday School. You are encouraged to bring items such as plants, fresh vegetables / fruits, sweetmeats, and short-eats to sell at the Salpila. Devotees of the temple will organize the evening Sri Lankan food stall (Sri Lak Bojun) this year as well. You may purchase your dinner from the stall prior to the overnight Pirith Ceremony. Food stall will be open from 05.30-06.30 pm. Please note that all proceeds from Salpila and food stall will go to the Florida Buddhist Vihara Construction Fund.
We hope to see you and your children at this important religious/cultural event.
With Blessings of the Triple Gem!
Venerable M. Ananda Thero
Venerable K. Amitha Thero