Meditation Retreat with Venerable Yuttadhammo Thero, December 26, 2015
Venerable Maha Sangha,
Dear Devotees,
On Saturday December 26, 2015, Venerable Yuttadhammo will return to FBV for a one day meditation retreat for both children and adults. We warmly welcome all to attend this beneficial event for the whole family. Venerable Yuttadhammo is the creator of the How to Meditate for Children series and will have copies of this teaching on DVD to give to the children in attendance.
This retreat is a wonderful opportunity to trade the hectic pace of this season for a day of calming the body and mind through meditation and listening to the dhamma. The benefits of such a day, last long after the retreat is over. We hope you will join us for the following program:
| | |
| --- | --- |
| 8:30 am-9:30 am | Introduction and beginning of the program |
| 10:00 am-11:00 am  | Dhamma sermon/discussion for kids |
| 11:00 am           | Buddha pooja |
| 11:30 am              | Daana for Maha Sangha |
| 12:30 pm     | Lunch for meditators and others |
| 3:30 pm-4:30 pm | Dhamma talk for everyone and ending of the program |
If you plan to attend the Meditation Retreat on December 26th at the Florida Buddhist Vihara, please sign up at the link below.
If you would like to bring a dish for dana (lunch), please sign up at the link below.
More information about our guest: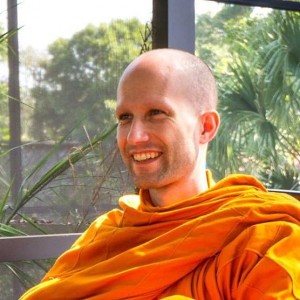 Venerable Yuttadhammo is a Canadian-born Theravada Buddhist monk, ordained in 2001 under the guidance of Venerable Ajaan Tong Sirimangalo of Chiang Mai, Thailand. He is President of Sirimangalo International, a non-profit religious organization located in Ontario, Canada, created with the intention of helping to spread insight meditation in the tradition of Ajaan Tong Sirimangalo to the world. Venerable Yuttadhammo has taught intensive meditation in Thailand, Sri Lanka, USA and Canada since 2003 and gives online teachings via YouTube  (http://www.youtube.com/yuttadhammo ) both live and pre-recorded.
He is resident Monk at the newly established Sirimangalo International Monastery and Meditation Centre in Hamilton, ON Canada, where he teaches residential meditation courses, as well as, offering online meditators from the meditation.sirimangalo.org community, the opportunity for individual instruction through a weekly online reporting session.
Venerable Yuttadhammo has recently returned to McMaster University in Ontario as a student in the Religious Studies program. He previously studied Sanskrit, Pali and Indian Religion at McMaster University and University of Toronto; formal Thai Dhamma, Abhidhamma and Pali studies at Wat Phradhatu Sri Chom Tong. He teaches Pali classes to advanced meditators from time to time.
He has practiced intensive and daily meditation following the Mahasi Sayadaw tradition since January 2000.  He keeps discipline in line with the Theravada Buddhist monastic code, including not touching money, owning only one set of robes, etc.