One day meditation retreat on July 7th 2013
A special retreat "On Buddhist Meditation and inner calmness"
Conducted by Venerable Uda Eriyagama Dhammajiva Maha Thero
ALL ARE CORDIALLY INVITED !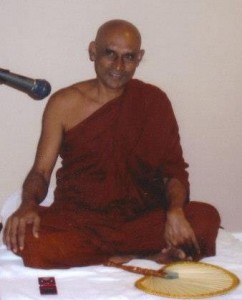 This is a great opportunity learn how to 
1. Restrain the mind to promote calmness and quality of life.
2. Learn correct meditation techniques.
3. Learn benefits of meditation.
4. Tackle personal problems based on Buddha's teachings.
5. Use Buddha's teachings in your day-to day life.
Register Now! Space is limited.
Please call the Vihara at (813) 621-1337 or email us at fbvihara@hotmail.com before the 5th of July to register for the retreat.
Venerable Dhammajīva Thero has been a meditation master for over twelve years and is presently serving as the Chief Preceptor of the Nissarana Vanaya Aranya. He offers training on tranquil (Samatha) and insight (Vipassanā) meditation techniques at the Nissarana Vanaya Aranya. Venerable Dhammajīva Thero received training under Ovadacāriya Sayādaw U. Panditābhivamsa, a leading Burmese meditation master who follows the lineage of the Venerable Mahāsi Sayadaw. Venerable Dhammajiva Thero is fluent in English, Burmese and Sinhala, He has authored many books on meditation and translated various Burmese literature on meditation to English and Sinhala.
With Metta
Bhante Dewananda
Bhante Morathota Ananda
Bhante Kendagolle Amitha 
PROGRAM
09.00AM  Arrival & Registration
09.15AM  Offerings to Buddha  (Please bring flowers, incense, candles, fruits for the offering)
09.30AM  Dhamma Talk- "Buddhist Meditation and Inner Calmness"
10.30AM  Questions
11.00AM  Silent Meditation
11.15AM  Offering of Buddha Pooja followed by Monks Pindapatha Dana
11.30AM  Dana for monks
12.00PM  Lunch for participants
01.00PM  Guided Walking & Sitting meditation
01.15PM  Dhamma Talk and simple meditation techniques for children
02.00PM  Dhamma talk on "Vittakka Santhana Sutta" Removal of Distracting Thoughts – MN Volume 1 -20)
03.00PM  Questions
03.15PM  Tea break
03.30PM  Discussion
04.30PM  Offering Requisites in appreciation for Bhante Dhammajiva
04.35PM  Chanting of Blessings/Pirith
Conclusion!