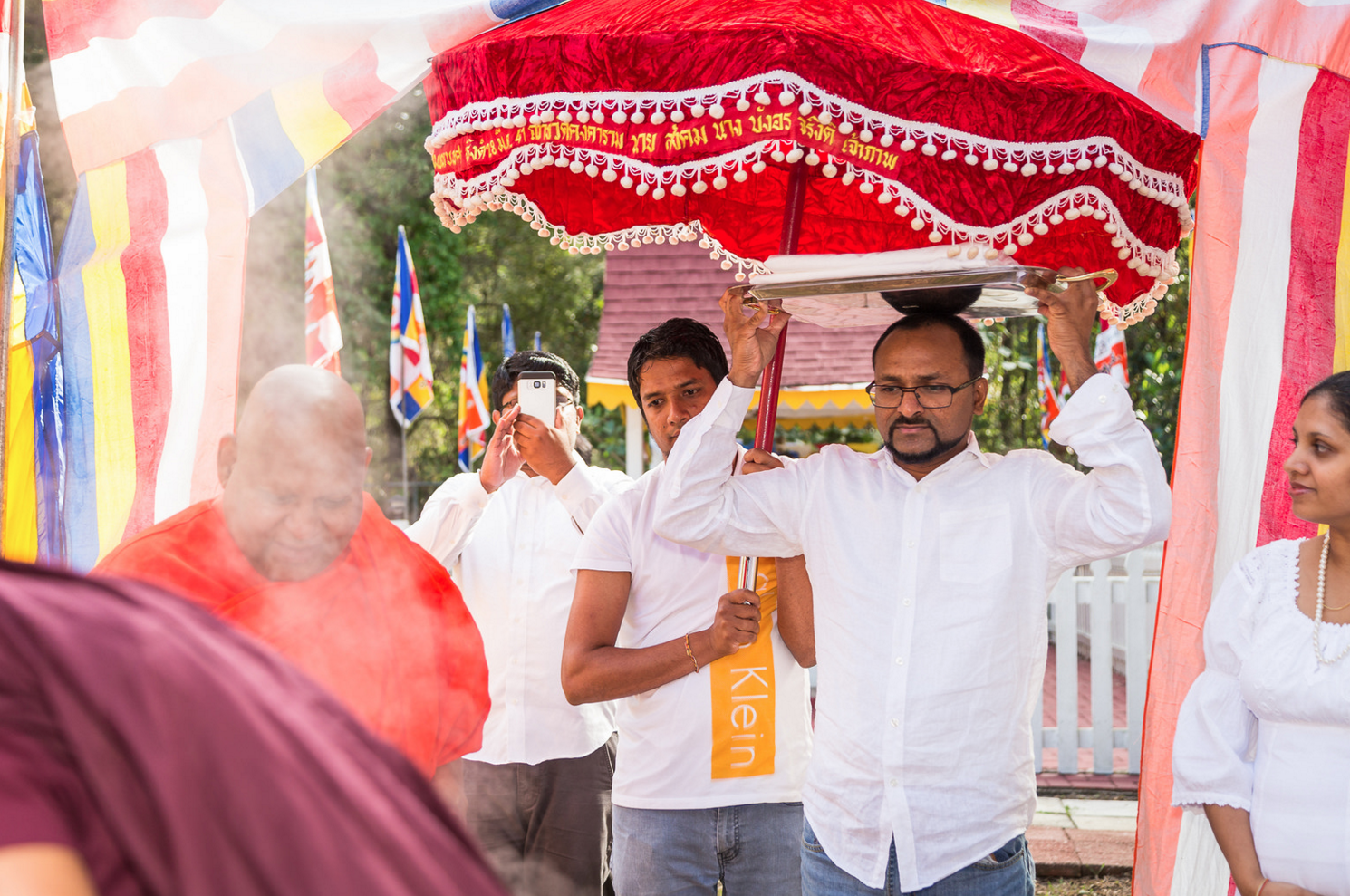 2020 Katina Pinkama
It has been an age-old virtuous Buddhist tradition for a group of devotees to invite a single monk or a group of monks for the Vassana (rainy season) retreat as the Vassana season approached every year. This year, in spite of the inconvenience of following the traditional practices amidst the prevailing unfavorable conditions in the country, we the resident monks of the Florida Buddhist Vihara (FBV) did start the retreat on the full moon day of August 3rd. based on the guidelines set forth by the Buddha. Starting from the Buddha's time it has also been a great meritorious act on the part of devotees seeking refuge in the triple gem to provide with piety, the four basic requisites of clothing, food, shelter and medicine of the monks who spend the rainy season retreat indoors. Accordingly the clergy, on patiently accepting the devotees' invitation, generally spend their time counselling the devotees on spiritual and other matters and on achieving their own personal objectives.
This year's Vassana retreat period would last three months from the full moon day of August 3rd. It will span 89 days inclusive of the two full moon days of September 1st and October 1st. It is somewhat unique that there will be two full moon days falling in the month of October (1st and 30th). Therefore, the three-month period from August 3rd to October 30th must be considered as the duration of the Vassana retreat this year.
Then the Kathina robe donation month will dawn. That will be the period between the full moon days of Oct. 30th and Nov. 29th. Traditionally, it is expected to complete all Kathina ceremonies before the last day of the above period. In keeping with the above timeline, it has been decided to schedule this year's FBV Kathina ceremony on November 21st (we wish to inform you the devotees of the details related to that in the near future).
Based on the aforementioned description, the different avenues in which you can contribute to defray the significant expenses involved in securing the four basic requisites of robes, food, shelter and medicine of the Vihara's resident monks and other incidental monthly costs associated with water, electricity and internet facilities and the regular maintenance of the Vihara's extensive yard, particularly during the nearly four months long Vassana retreat, can be found in the following link. All in all, we kindly bring to your attention the facts that the total monthly expenditure of the temple is nearly $3,000 and none of the resident of monks is covered by any medical insurance. These are stated for the kind consideration of all the FBV devotees.
Click here for Vassana Season Sponsorships